What 'Side Chicks' Can Offer You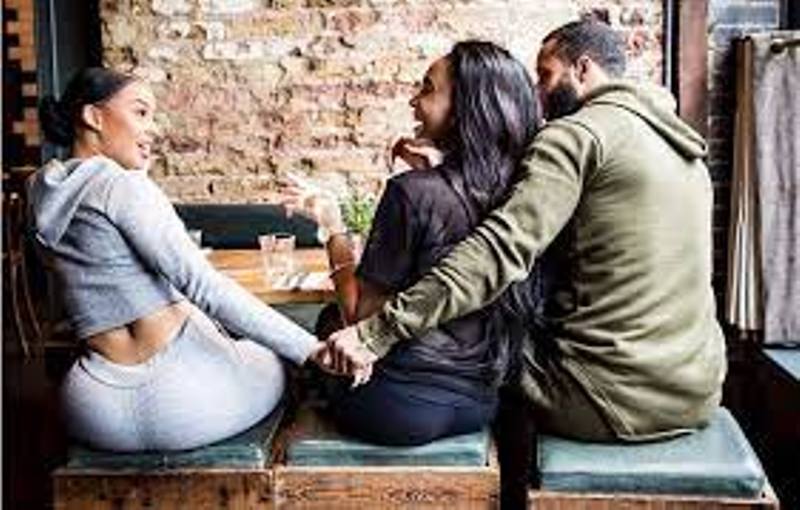 The term "Side Chick" has become a popular term used to refer to a "Mistress" or a lady that a married man has chosen without the knowledge of his legally married wife, to be serving as his sin partner in sexual immorality.
Today, many married men have side chicks, and the corrupt society seems to be gradually endorsing the concept. The social media and internet are really helping this sin partnership to thrive.
Some side chicks are actually 'sugar mummys' in terms of role as they have the financial capacity to 'take care of' the victim and his official nuclear family. Why do married men keep side chicks?
Ask them, and they will give you reasons of better sexual performance by the sin partner, the quest to vary taste or experience of sexual pleasure, poverty and unemployment, a back-up package in case of marriage collapse, a mere fun adventure, etc. Some side chicks are even known by the wife of the married man and the man says he is keeping the sin partner to get back at an unpleasant wife.
The devil has even developed a sort of justification slogan which many wives have unfortunately out of assumed helplessness, bought. The slogans include "Men will always cheat" "Promiscuity is in man's nature", etc. I will attempt to x-ray the various reasons advanced by men for keeping side chicks.
The reason of a better sexual performance by a sin partner other than your wife, does not stand because sex is a function of the mind. When sexual intercourse in marriage is a product of true love, there is accommodation of your partner's inadequacies (if any), and deliberate efforts to work on, and improve sexual pleasure through intimate persuasive communication.
When sexual intercourse is a product of ungodly lust, the mind is already deviant and the capacity for right judgment is compromised, dead. In other words, your breach of your marital vow itself has already denied you the mental and moral qualification to pass judgment as to who has, or does not have a better sexual performance than your wife. Adultery is a sin and will remain so forever (Exodus 20:14).
So, true love has to do with your heart, your mind and goes beyond sexual pleasure.
Love is kind. Love does not think evil. Love does not rejoice in iniquity but rejoices in the truth. (1st Corinthians 13:4- 6). Therefore, your 'better sexual performance' quest outside your marriage is a failure of your love test based on this scripture.
The quest to "vary taste or experience of sexual pleasure" is simply an evidence of unfaithfulness. It is like stealing the time of the company that has you on its payroll fulltime, and using that time to serve a competitor.
It is simply unfaithfulness and betrayal. It makes you worse than Judas Iscariot that betrayed Jesus Christ. No unfaithful person is a friend of God.
Before the Almighty God, poverty and unemployment are very weak reasons for keeping side chicks. There is no difference between such a man and Esau who sold his entire birthright just to get a pot of pottage (Genesis 27).
If you are keeping a side chick as a back-up package in case of marriage collapse, you are a man without faith and confidence in your life decisions. You are like Reuben in the Bible, a man unstable as water (Genesis 49:4).
You are living a life without purpose, not willing to be responsible and stand up for something. You are merely existing in this world under the captivity and oppression of ignorance. However, there is hope for you if you desire a better life. Keeping a side chick just for the fun of doing it, either as a result of influence from ungodly associates or personal exuberance is mere foolishness.
"The fool has said in his heart, "There is no God." (Psalm 14:1) "Thou shalth not follow a multitude to do evil" (Exodus 23:2). You were not sent into this world just to have sex with women. God specially created you and sent you to fulfill a purpose. "Before I formed thee in the belly, I knew thee, And before thou camest forth out of the womb, I sanctified thee" (Jeremiah 1:5).
You have a limited time to fulfill God's purpose of sending you here before going back to him to give account of your life. So, there are much more important divine tasks and responsibilities to carry out on earth than having sex with diverse women and attracting complex obstructions to your destiny.
What you may not know is that your side chicks understand fully that there is no future with you, other than sex and money exchange or momentary fun and money exchange.
So, they focus on getting whatever they can get out of you before the unknown happens. This means that in their minds, you represent no security to their future even if you marry them as second wives.
You are not a husband but just a man. Your being discarded through poisoning, ritual killing or other means, just to have access to your wealth (if any) and move on, or to cover their backs just in hope of a reliable future relationship, will not be an issue. You are just at their mercy.
Besides, in cases of false allegation or affliction related to sexual immorality, even your legally married wife cannot defend you because you have proved to her that you are indiscipline, unfaithful and unreliable person.
Also, when you have a side chick, lying becomes a lifestyle for you and "the cowardly, unbelieving, abominable, murderers, sexually immoral, sorcerers, idolaters, and all liars shall have their part in the lake which burns with fire and brimstone" (Revelation 21:8). So, you can see that the only thing that side chicks have to offer you, are destiny destruction and eternity in hell fire.
"There is a way that seemeth right unto a man but the end thereof are the ways of destruction" (Proverbs 14:12). Based on the covenant (marital vow) you made with your husband before the altar of ALMIGHTY GOD, you are ready to sacrifice anything, including sinful pleasure to make God (the wedding witness) and your wife joyful.
Covenant is a spiritual matter. If you make covenant with a juju or deity, you know you dare not break your own side of the bargain. So, why walk with someone to the altar of the Almighty God that created you and can take your life, make a covenant to love and live with a particular person forever, with God your creator as a witness, only to later break that vow with adultery or outright divorce? Is this not a suicide mission? "God resists the proud.."1st Peter 5:5). When your creator is resisting you, things may not work for you. As a matter of fact, your destiny is in trouble.
Now, how true is the slogan, "Men will always cheat?" God is good and anything that is not good is not of God. God created man in his own image (Genesis 1:26). In other words, every man has the image of God. So, when you say it is in man's nature to cheat or be promiscuous, you are saying that God is a cheat and a promiscuous person. When you insult your own creator in this manner, I don't know which church, pastor. Priest or Imam can deliver you from God's wrath for "it is a fearful thing to fall into the hands of the living God" (Hebrews 10:31).
God is good and anything that is not good is not of God and cannot be associated with God. Are you a wife that has been committed to your husband over the years but has suddenly started acting up and unnecessarily suspecting your husband because you are buying the lie that men will always cheat? Watch it! You are about to throw away the good thing that God has blessed you with, and destroy your marital destiny.
The best of marriages are not in the news or in the mass media. It is the ones that fail that eventually make news headlines. Beware!.
Maybe as a husband, you have a side chick (a sin partner) and your wife is not aware. You have been putting in your best in career, business or ministry. But the more you are struggling, the less you are moving forward. My dear, you may have to consider this scripture:
"HE THAT COVERETH HIS SINS SHALL NOT PROSPER BUT HE THAT CONFESSETH AND FORSAKETH THEM SHALL HAVE MERCY" (Proverbs 28:13). This scripture says you cannot prosper in your efforts except you confess and forsake your sin of keeping Side Chicks. SCRIPTURES CAN NEVER BE BROKEN. You may laugh and say: "well, who told you I am not prospering? What you perceive as prosperity is different from God's package for your life at creation.
"For I know the plans I have for you," declares the Lord, "plans to prosper you and not to harm you, plans to give you hope and a future." (Jeremiah 29:11). Once you are on the wrong ladder of life, even if you climb to the top, crashing is inevitable. It is a matter of time.
Mr. Side Chick keeper! Is there any hope for you? YES. The truth is that you cannot save yourself from this captivity of Satan. That is why you may have on several occasions, said: "I will not do this again". The next day, you see yourself looking for another thing in skirts. You cannot do it by your own power. Jesus said: "..for without me, you can do nothing" (John 15:5).
It was for the purpose of your deliverance that Jesus Christ left his throne in heaven, came to this world and died, shedding his blood on the cross of Calvary. You must first surrender your heart for him to possess. If you are still yourself, you cannot be delivered. Jesus said: "If anyone desires to come after Me, let him deny himself, and take up his cross, and follow me" (Matthew 16:24) "If you shall confess with your mouth, the Lord Jesus and believe in your heart that God raised him from the grave, you shall be saved" (Romans 10:9). Drop your Side Chicks and distractions today and welcome God's full presence into your marital life.
This world is not our home and where you will spend your eternity after earthly sojourn should be your priority concern. By this time yesterday, God knew that by this time today, you will be reading this piece. The journey from this moment till tomorrow is not a short journey. Don't postpone your salvation any more.
You may wish to say these words from your heart: "Lord Jesus! I thank you for dying for my sins. I surrender my heart to you this moment. Take control of my life henceforth in Jesus name! Amen.
Congratulations! You are born again.
FOR QUESTIONS, PRAYERS, COUNSEL, CONTACT
Pastor Albinus Chiedu
+234 8038117704
[email protected]