There Is More To Gain From A United Nigeria, Says UNA Chairman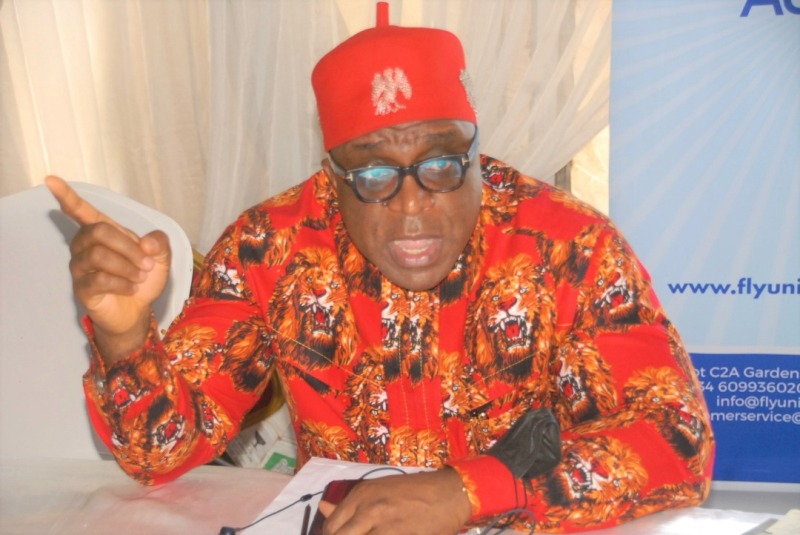 The Chairman of United Nigeria Airlines (UNA) and National Grand Patron of Ndigboamaka Progressive Markets Association, Prof. Obiora Okonkwo has said that there is more to gain from a united Nigeria than from tribal conflicts.
Delivering his opening remarks at the all market conference organized by Ndigboamaka Progressive Markets Association, Obiora said "there is more to gain from a united Nigeria, which incidentally is the name of the airline I established a few years ago. We must keep working to unite Nigerians with their visions, their aspirations, their neighbours and other societies for the good of our great country. Nigeria must be united; but Nigeria also must be a just and inclusive society."
"This is why some of us are very troubled by the occasional diatribe between the Yoruba and Igbo in Lagos state as is currently the case. It is not only unnecessary but also of no positive use for anyone to fan the embers of discord between the Yoruba and Igbo who have harmoniously co-existed in Lagos, along with other ethnic groups for well over a century. The only people, who foster, revel in and benefit from such conflicts, are crisis merchants and we must rethink our association with them if we must maintain a decent relationship with our host communities" Obiora said.
He added that "like any other type of government, Democracy which we are trying to practice has its inherent flaws, more so in our own case in Nigeria. Yet, violence is never the solution to anything. That is why we must, as concerned citizens with constitutional rights, insist on good governance as we strive to build a just and democratic nation. It may not happen overnight but as the English Poet, Alexander Pope reminds us- hope springs eternal."
"As has been established over several decades, the Igbo, as traders and business leaders, thrive very well in peaceful and accommodating environments. It is only when the environment is welcoming and inviting that we best express ourselves building new businesses and communities through self-help programs and human capacity development. One of such is the famed apprenticeship program which the American-Canadian TED Talks organization described as the greatest Venture Capital scheme ever. We invest in any place that we are welcome," he further said.
Theme of the conference was 'Catalyzing Partnership with Traders through Innovation, Technology, Analytical and Sustainability'.