Suffering Continues At Mopol Junction Link To Aiyetoro/Lafenwa Road, Ogun State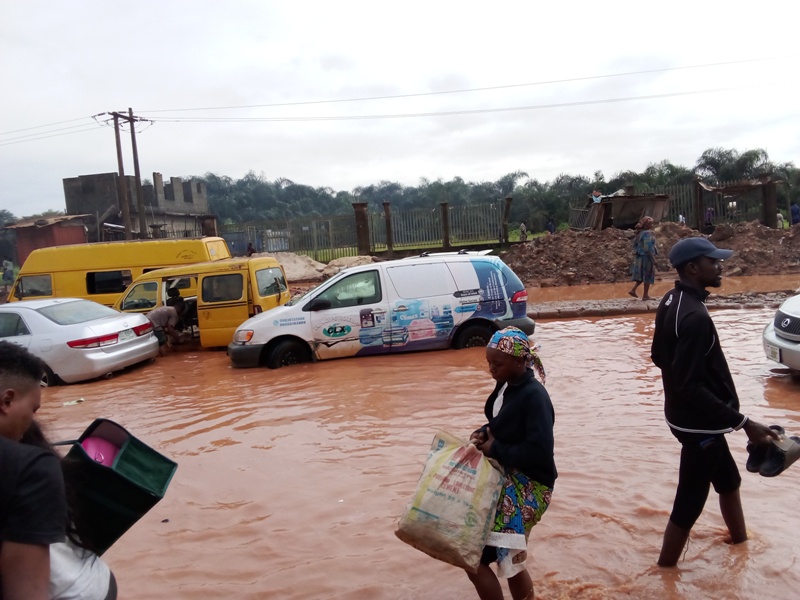 Although construction of drainage to absorb flood started at Mopol Junction linking Aiyetoro road and Lafenwa road in Ado Odo Ota Local Government Area of Ogun State shortly before February 2023 general elections, the sufferings of the residents and users of the road have persisted with the persistent downpour and flood that threatens lives of both humans and vehicles.
The recent rains led to flooding, worsened by hips of sand emitted during the work that has lingered. Vehicular traffic is now constant at Mopol junction that links residents of Itele, Lafenwa, Aiyetoro, Fence and many other communities in Ogun State to Ayobo road in Lagos State, meaning that lateness to work by workers is a daily affair. The slippery nature of the location has led to pedestrians falling down and sustaining injuries. After each downpour, vehicles breakdown at this only usable link to Ayobo and contribute to the constant terrible gridlock.
Victims and residents have applauded Senator Solomon Olamilekan and the Oba of Aiyetoro who collaboratively saw to the kick off of the drainage construction after decades of allowed dilapidation but appealed to the duo and Governor Dapo Abiodun to ensure speed up of the repairs in order to reduce the sufferings and casualties of governance neglect.
Senator Solomon Olamilekan Adeola is the current representative of Ogun West Senatorial District, following his victory at the 2023 polls.
The photograph above of Mopol Junction was taken on Saturday, September 9, 2023.