You Don't Need Title To Fulfill Your Ministry, Says Bishop Fianu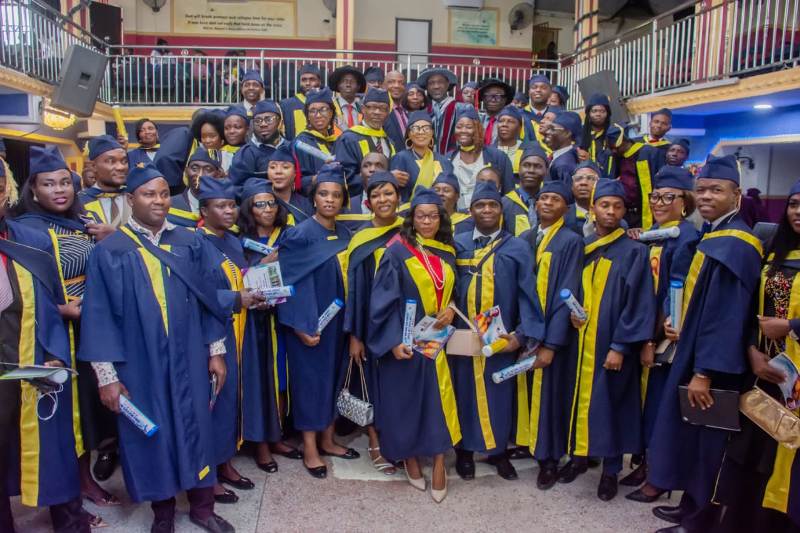 The Bishop of Lagos Bishopric, Church of God Mission International (CGMi), Rt. Rev. Curtis Fianu says "you don't need to be a Pastor, Bishop or Apostle to fulfill your ministry."
Fianu while delivering his welcome address at the 16th Convocation of All Nations For Christ Bible Institute International (ANFCBII), Lagos Annex Campus, held at Kings Pavilion, Mafoluku, Lagos, on October 7, 2023, said God saw the zeal of Saul of Tarsus before the divine encounter that eventually announced his ministry.
"Your title as a Pastor does not guarantee your eternity with God," he said.
Fianu further said: "It is not everyone who graduates from the Bible School that automatically becomes a Pastor. The Bible School is first, for knowledge but in the course of your crave for knowledge and commitment to service, the Lord, God Almighty will direct you on your area of service."
"I welcome everyone to the 16th Graduation Ceremony of ANFCBII Lagos Campus. The All Nations For Christ Bible Institute International is one of the most prestigious Bible Institutes in the world. As an alumni and Chairman of the Governing Council,. I recommend this school to anyone who wants to know more about God.
I am so glad to be part of those fulfilling the dreams of our founding Archbishop Benson Idahosa whose dream was to train and equip workers and ministers of God into leadership with a deep foundation built on the undiluted word of God for efficiency and effectiveness in propagating the Gospel of Jesus Christ.
Our Archbishop, Most Rev. Margaret Benson Idahosa has greatly built on the foundation laid by the founding Archbishop. Her passion for learning and empowering Christians cannot be over emphasized. Today, ANFCBII has trained thousands of Ministers, Pastors, Apostles and Bishops all over the world who are doing great exploit in every area of the five-fold ministry.
As you graduate from this great citadel of learning today, your duty is to go and preach the Gospel, live the Word and be example of the Word. The world is waiting for your manifestation," said Fianu.
Earlier in the address of the Archbishop of CGMI, Most Rev. Dr. M.E. Benson-Idahosa (JP,OON), read on her behalf, she congratulated the graduating students for the time spent to acquire the Diploma.
"The world is before you to put to task the training you have received for the number of years you have been here. You belong to a heritage of uncountable men and women who passed through the walls of this Bible School and are doing great exploits across the world. Your time here therefore, is well spent, and we are waiting to hear of the great things the Lord is going to use you to do," she charged.
The Vice President of ANFCBII, Bishop Dr. Feb Idahosa in his remarks that was read said to the graduates: "You have risen up. You have made it. Now, go, preach, heal, set captives free and change the world as we know it."
The Acting Provost of ANFCBII, Dr. Covenant Nta in his speech, encouraged the graduates to "be focused and learn all that is needed to enrich your spirituality, enlarge your capacity and establish you in your Ministry. God chose you to be trained so that you can be a workman that needed not to be ashamed, rightly dividing the word of truth (2nd Timothy 2:15).
Principal of ANFCBII, Lagos Bishopric main campus, Rev. Clement Ayo used the opportunity to appeal for an upgrade of the campus to a degree awarding institution, a request that Bishop Fianu said would be considered.
There were 37 graduating students from the Lagos Bishopric campus, 25 from Lagos West sub campus and four from Victoria Island sub campus. There were a total of 43 matriculating students.
SEE MORE PHOTOS