Footbridges In Lagos With Risk Of Being Attacked By Miscreants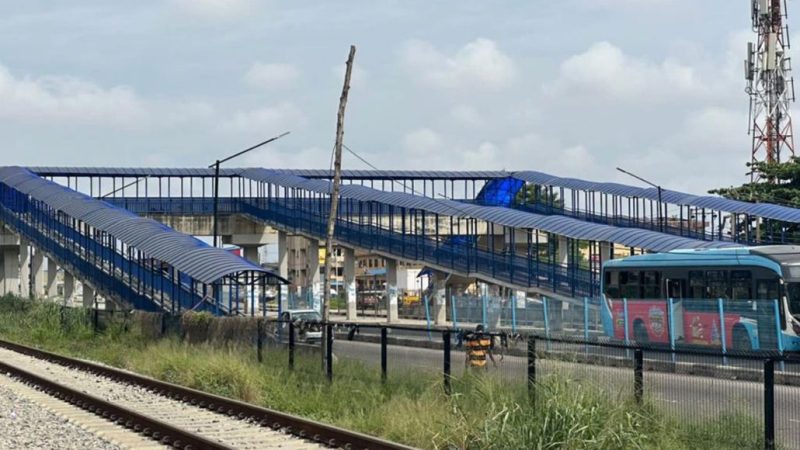 There is a growing concern over miscreants' takeover of footbridges across Lagos metropolis. The development has forced pedestrians to abandon the road safety facilities.
Lagos residents told The Guardian that seeing several touts lounging in open or enclosed portions of the new footbridges puts them at risk of being harassed or attacked.
Specifically, the footbridges constructed to connect three terminals of Oshodi Bus Interchange are currently shared with miscreants. Such occupants are also lurking around similar structures at Airport Junction and NAHCO corridor, inward the Murtala Muhammed International Airport (MMIA).
In daytime, hemp-smoking 'landlords' are routinely seen on those bridges, with some demanding tolls from users. At nightfall, the footbridges are no-go areas for residents.
Most pedestrians, therefore, prefer crossing the busy expressway despite the risks involved. They said using a footbridge might be riskier.
Abandoned for a long while, some of the bridges have turned into refuse sites, thereby making them inaccessible to pedestrians while traders also use them to display their wares.
A pedestrian, Ayomide Aina, said it is now more suicidal to take footbridges than cross a busy road.
She lamented that some of the bridges were constructed in a manner that makes their usage stressful.
While it takes a pedestrian a few seconds to cross the expressway from Ajao Estate to Mafoluku side of the road, it requires three minutes or more, for an agile person to use the bridge, and up to seven minutes and above, for old people.
Another pedestrian, Olaitan Ganiyu, said: "If you think no mountain is too high for you to climb, you need to try the newly constructed Ikeja Along footbridge (on the Lagos-Abeokuta Expressway).
"Though it's not as high as the Chappal Waddi Mountain in Taraba State or Olumo Rock in Ogun State, you will need a head for heights to enjoy it. Unfortunately, this walkway is the only alternative for pedestrians entering Ikeja from Abeokuta expressway.
"For the youths, it would be a form of exercise, though the elders might find it a laborious experience."
Another pedestrian, Emmanuel Shile, said: "Crossing the expressway appears easier, when you consider the stress of alighting at a bus stop that far off the footbridge, then walking the distance backwards just to use the footbridge."
Asked if he is aware that anyone could be knocked down while crossing the road, he said: "I am aware, but it's still okay for us to cross rather than to use the bridge. I have used the bridge before, but I stopped because it is stressful."
Also, Tony Nwachukwu, said most people do not use the bridges because they are often far from the bus stops.
"I have to trek a distance to use the bridge. I have never used the bridge at Airport Junction (At Ajao Estate), but I used the one at NAHCO because it is closer to the bus stop. But this bridge is too high," Nwachukwu said.
Reacting to pedestrians' concerns, Head, Public Affairs Unit, Lagos State Environmental Sanitation Corps (LAGESC), Lukman Ajayi, appealled to residents to use footbridges because they are life savers.
According to him, there are plans for a meeting of stakeholders, including the police and local council employees, to improve security on the bridges.
He said: "Prior to the election period, enforcement and arrest were reduced but now that elections are over, the state government has resumed clampdown on those who are not using pedestrian bridges, street hawkers and other environmental offenders.
"When we made arrests, the people protested that they owned their lives and did not commit any offence.
Now, we have planned a meeting that would involve every stakeholder in the state to address the situation."
When asked about miscreants sheltering on the bridges, Ajayi said the issues would be addressed at the stakeholders' meeting.
On the design of the new footbridges and attendant stress to pedestrians, he said: "If a user spends 10 minutes to be alive than a minute and die, which of them is preferable? No matter the time spent on the bridges, it's for our own good."