SAHCO Opens New Training Stations, Expands Clientele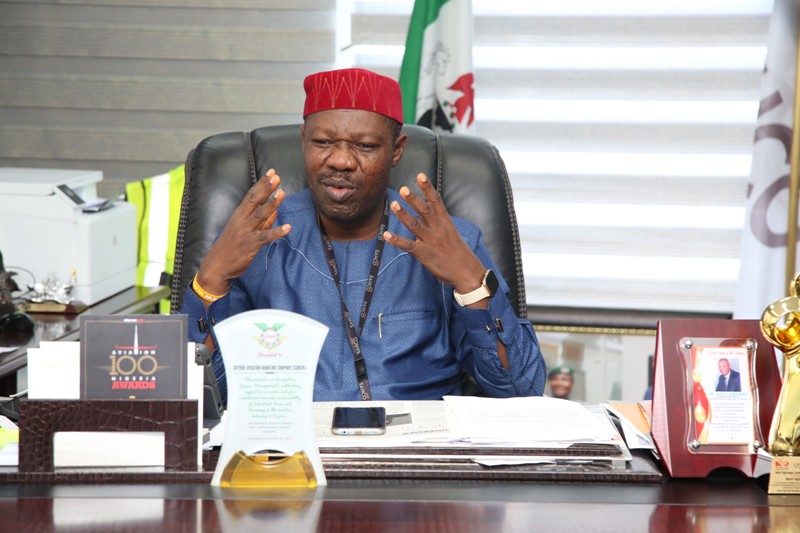 The Managing Director of Skyway Aviation Handling Company (SAHCO) Plc, Mr. Basil Agboarumi says the company has opened two new training stations and signed contracts with new entrants into the aviation industry in 2021.
Speaking in an exclusive interview with chiedualbinus.com, Agboarumi said: "Training is key to us. On mandatory training, we are up to date. We just started a training facility licensed by the Nigerian Civil Aviation Authority (NCAA). We have started two new stations in Bayelsa and Osubi in Delta State, where we were not in existence before. We have expanded to these areas. We have also expanded frequency of operations in areas where we were already operating before.
We have signed contracts with some new entrants like Green Africa and Ibom Air. We are building confidence in all our services with our clients. Our intention is to ensure that our clients are happy. We are consolidating.
Also, because of the covid19 pandemic, there are changes in certain things in terms of audit. We are a company that must meet compliance in certain areas. We are RA3 and ISAGO Compliant organization. We have aligned ourselves with some new realities. We have done audit renewal for Lagos, Abuja and Port Harcourt in terms of RA3 and ISAGO Certification renewal. We knew that expiration would be coming for audit in these areas and we set the priorities this year. We have been able to achieve them.
Our ISAGO audit was done remotely. One thing covid has taught us is that one can work from anywhere. That has to do with technology. So, we are doing full automation of all our operations. If you look at our cargo operations in the areas where we still have paperwork, we are doing automation. So, it is not just about equipment. The kind of equipment we are bringing in is different from what we used to bring in. We were the first company that brought electronic equipment into the country which has to do with Tow Tractors. We are also introducing other electronic equipment into the ramp as part of the new ones we are bringing in.
One thing I can assure you is that as an organization, we believe there should always be improvement for us as a company. That's why year to year, we look at ways to improve. For instance, we have always prepared for cargo operations. That's why we built our warehouse. We have the best cargo warehouse facility in West Africa, with all the automation and equipment needed. That has helped us in the cargo volumes we have operated overtime. There is no airline that does not patronize our cargo facilities.
One thing that is coming up is cargo export. By the time the oil export began to dwindle, people began to look at how else to make profit. One of the best ways is agro allied export. People are beginning now to go into export and we are beginning to see growth and expansion. That is why recently, we cried to Federal Airports Authority of Nigeria (FAAN) to give us space. We wanted to expand. If we are able to get extra space for expansion, we can do things differently. Over the years, it has been about import. Before now, export was almost non-existent. People are now beginning to get aware about export. Things are being pushed out of the country. Cargo traffic is increasing. The increase is quite huge compared to what it used to be.
In 2020 when the passenger traffic was closed down, cargo traffic was still moving. People needed to move things around the world. For things to go anywhere, courier was used for sending things. In Nigeria however, there is a challenge for importers. The challenge is sourcing for forex. As forex continues to go higher, it affects the power of the average importer to import things. We believe it could have been better but the challenge here is the purchasing power which is the sourcing of forex."
Agboarumi further disclosed that SAHCO was looking at areas of possible diversification of revenue sourcing, while maintaining focus on its core business of ground handling.