FAAN Moves Against System Laxity, Beefs Up Security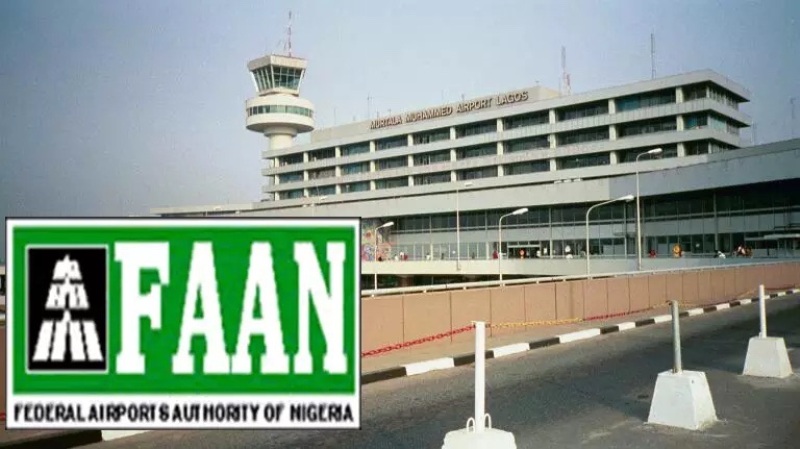 The Managing Director of Federal Airports Authority of Nigeria (FAAN) Capt. Hamisu Yadudu says the organization intends to decentralize essential operations and management of FAAN as part of measures to checkmate laxity in the system.
Speaking during a courtesy visit to members of the League of Airport & Aviation Correspondents (LAAC) yesterday, Yadudu said: "a lot of things are concentrated around the headquarters and you cannot be macro-managing from the headquarters, all other airports. The headquarters will be doing a lot. From the first day I assumed office, I told them we will be decentralizing and each airport will be responsible for itself but we will monitor and do surveillance of the facilities.
I think in the next two weeks, we will start it. We have used the last two years to do the planning and now, we have developed the Key Performance Indexes (KPIs). About 90 or 100 items are in all these. With this, the issue of laxity in the system can be checkmated. This will make us to know those who are messing it up and we won't wait till the end of the year before we take an action."
He said the decentralization will help improve staff welfare. "Even the welfare of our staff, we will decentralize it and the managers are responsible. We will also ensure accountability. If your manager is messing up, it is easier for you to know. Also, we have started the scholarship exercise for all our staff and the best five students in each five regions will get the scholarship and FAAN will make sure we fund their university education," he said.
On measures being taken to improve airport security, Yadudu said: "I was a Director of Operations in FAAN when we realized there was the need for total surveillance for the whole airport. I went to Munich, Germany by the end of 2018 or so, identified the company. They came to do lead assessment twice; marking and survey. They gave us the estimate for visual and thermal infrared cameras – visuals to cover the areas for a whole day – sunrise to sunset and therminal from sunset to early morning. If a rabbit is walking within 8km radius, which is 16km diameter, they will pinpoint it. The runway is 3.7km or 3.8km and we are buying about four of those cameras to cover the airfield.
We started procurement and Capt. Hadi Sirika, the Minister of Aviation was very supportive. As of now, the procurement has been concluded and Mr. President approved it last year. Part-payment has already been made to the manufacturer. The Chief of Staff and myself, we went to the factory to ensure that what we are buying is what we are getting. We were there last November. The delivery will happen within the next one or two months and then installation follows. This is fully automated; it will be spanning 360 degrees."
"In the meantime, we already set up the manual patrol. The military is going around the airport facilities for improved security. This automation is not just in Lagos, but it includes Abuja airport. We also bought two motorized equipment. If you have any security challenges at any airport, we will drive it there and deploy it. Inside the vehicle, we have three screens that we can use to monitor and protect the airports," he added.
On the agitations for Nigerian airports to operate 24 hours service, FAAN's Managing Director said FAAN would actually want "all airports to operate 24/7 days a week because it is a business for FAAN. We earn our revenue from that operations. We are a service delivery agency, but the challenge is, will the 24/7 pay for itself? Somebody has to pay for the 24/7 operations. Will the business pay for itself? If we open an airport with just only three landings, FAAN will close down. No organization in the world will do that. Even, if you go to Europe, you will find out that many airports are sunrise to sunset. You can operate an airport even for sunrise to midday so that everybody that knows should go around that window.
FAAN cannot operate an airport that we can't breakeven with, because we are already challenged. We want 24/7 days airport, but we need to know if the business will be sustainable. At first, some of the businesses may look as if they are sustainable even for the next two years. So, somebody must be ready to have the business model to sustain 24/7 operations. I cannot commit to 24/7 operations when you are not coming."
"An airline may decide to open a route today and dispatch just one aircraft there, but for FAAN, the Nigerian Airspace Management Agency (NAMA) and others, will have to mobilize personnel, ensure efficiency and fix facilities that can be moved in and out. Sometimes, fuellers and handlers will be needed. We don't want a situation whereby an airline will start a route now and in the next few months, it will stop such due to lack of passengers. Then, who will pay for all we have gone through?
FAAN is a business. We pay our salaries, wages and we have to be sure that we will breakeven when we do that. Who will nurture the airports for sustainability? They can be sustained, but who will pay for those periods?," he asked.