AviaCargo Stakeholders Call For Harmonization, Single Document On Agro Export Processes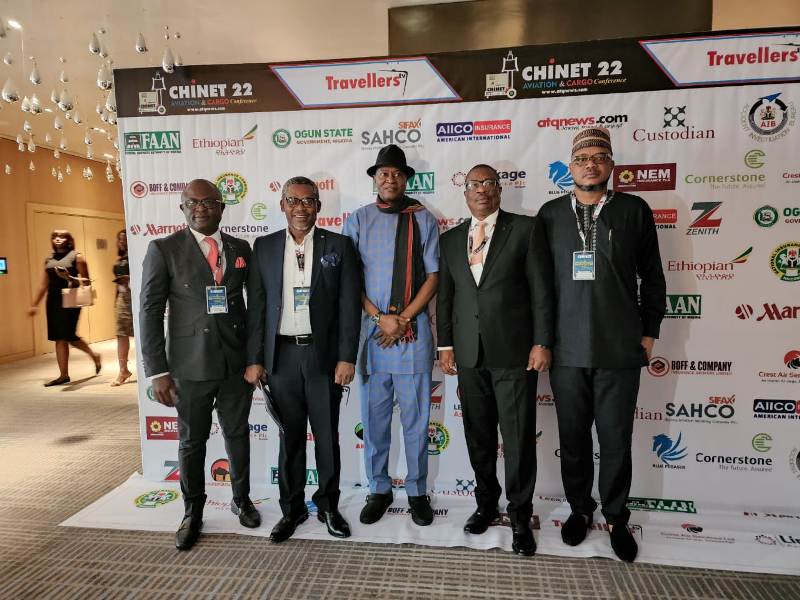 Stakeholders in Nigeria's aviacargo sub-sector of Nigeria's aviation industry rose from a two-day conference, the CHINET 2nd Aviation & Cargo Conference held September 7-8, 2022 at Marriot Hotel, Ikeja, Lagos, with a resolution that there is a need to harmonize agro export processes and agencies' operations and develop a single document on the various processes in order to realize the vision of achieving the benefits of New Export Processing zones concept through the nation's airports.
The conference organized by Travellers' Weekend Magazine, which has Mr. Ikechi Uko as publisher, produced a committee, made up of representatives of various aviation and non-aviation related organizations and agencies involved in processes of export of agro based products. This committee is to schedule a meeting and come up with a harmonized document on processes and requirements for agro export through Nigeria's airports.
The many regulatory and non-regulatory agencies involved include Nigeria Export Processing Zones Authority (NEPZA), National Agencies for Foods & Drugs Administration & Control (NAFDAC), National Agency for Quarantine Services (NAQS), Lagos Chamber of Commerce & Industry (LCCI), Port Heath Services, Skyway Aviation Handling Company (SAHCO) Plc, NAHCO Plc, Federal Airports Authority of Nigeria (FAAN) and so on.
In his presentation, the Managing Director/Chief Executive of FAAN, Capt. Hamisu Yadudu declared that there was a 50% increase in the number of goods that passed through Nigeria's airports in 2021 compared to 2020, adding that 13 airports had been designated in Nigeria as cargo airports. He advised airlines to increase their capacities in cargo operations.
Moderating a panel session on the role of cargo airports in cargo business in Nigeria, the Chief Executive Officer of ABX World Agro Allied Solutions, Capt. John Okakpu called on the government and relevant agencies to create enabling environment for agro cargo export and make available, the required airport facilities to make the business attractive. He expressed strong confidence that the private sector in Nigeria had capacity to improve performance in agro export volume, with sincerity, focus and commitment of stakeholders.
Presenting a paper on behalf of the Managing Director of NEPZA, Prof. Adesoji Adesugba, NEPZA's Director, Investment Promotion & Investment Services, Mr. Augustine Onyekwere noted that investment in the airports SEZs would attract more revenue and boost national Gross Domestic Product (GDP), investments and exports.
On challenges facing the growth and development of the aviation cargo export in Nigeria, Onyekwere said a recent survey showed that 11 of the 16 charges involved in the export processes are illegal while only five of the 16 sundry charges tracked for goods coming in or departing the country, are recognized officially. He further identified lack of modern infrastructure, corporate governance, policy and regulation, high cost of aviation fuel, inadequate funding and resources, high cost of operations, insecurity, insurance, environmental challenges and corruption as constraints to export.
Onyekwere called for improvement in the ease of doing business at the airports by cutting down on the bottlenecks through reduction of number of government agencies at the airports and eliminating too much paper work.
Speaking on behalf of her Director General, Dr. Ubiogoro Eloho of National Agency for Quarantine Services (NAQS) stressed the need for more cooperation among government agencies involved in agro export processes and compliance from farmers, exporters and their agents on requirements. She equally appealed to handling companies to provide the required facilities for processing of farm produce for exports such as cold room facilities and electricity power.
An Assistant Director at NAFDAC, Mr. Effiong Joseph, who presented a paper on behalf of his Director General, Pharm (Mrs) Kelechi Nwude called for complete automation of the clearance processes of the regulated products at the ports and NAFDAC's collaboration with other agencies.
"The automation of NAFDAC processes is key in ensuring the growth and development of the aviacargo masterplan," he said.
The Chairperson, Export Group, LCCI, Mrs. Bosun Solarin emphasized the need for proper enlightenment of investors interested in agro export on the processes for export of products, stressing that there were too many processes involved in agro export and that this had been a source of discouragement, as many intending exporters had recorded losses of products and wastages due to too many bottlenecks.